20th/21st May 2021 – via ZOOM
Scope of the Workshop
We cordially invite you to the 11th ASEM Workshop for Advanced Electron Microscopy. This annual meeting provides an open forum for discussion among young and experienced electron microscopists in Austria. Researchers from academia and industry across all career levels are welcome to contribute in their fields of expertise (e.g. life sciences, materials science, physics, chemistry); we especially want to encourage students and young scientists to actively participate.
This year, apart from oral contributions, for a lively scientific exchange we would also like to encourage advanced researchers to share their in-depth knowledge during the poster session in depicting the manifold aspects of electron microscopy to our young scientists.
Scientific programme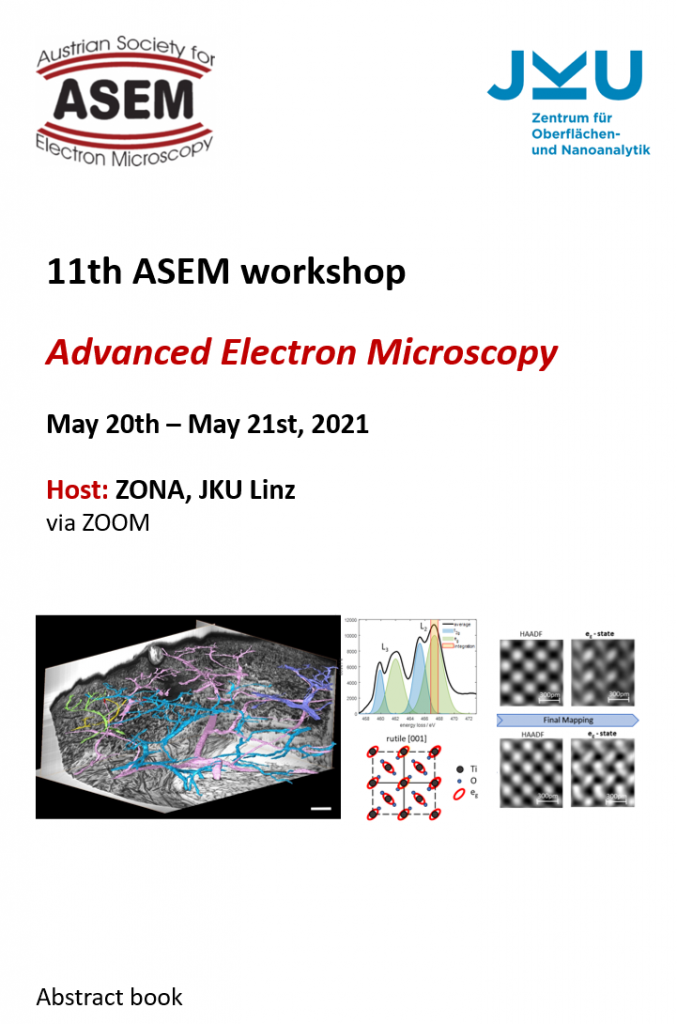 The abstract booklet is now available for download.
Workshop information
The workshop will be a ZOOM-event, hosted by JKU Linz (Dr. Heiko Groiß). The ZOOM-Link will be provided via Email to all registered participants.
The conference language will be English.
You may contribute in giving talks (12 min. + 3 min. discussion) or presenting posters. Please note: only a restricted number of talks will be available due to time constraints.
The workshop is free of charge for all ASEM members.
We warmly invite the two+two upcoming winners of the Fritz-Grasenick-Award 2019 and 2020 to give an extended talk (25 + 5 min. each).
Poster for download:
The posters were available until June 15th.
Registration and abstract submission:
Please use the abstract template provided here.

The deadline for registration and abstract submission is Sunday, 2nd May 2021.

Poster submission deadline: Monday 17th May 2021

.
Participating companies: